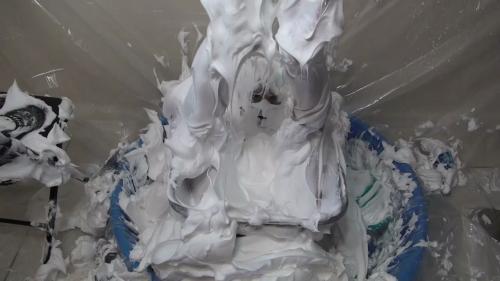 Starring the following model:
"Jayce plays in a Huge tub of stringy, slimey foam!"
| | |
| --- | --- |
| File count: | 1 |
| Total size: | 215.74 MB |
| Total runtime: | 13 mins, 29 secs |
| Date added: | 11/22/16 |
| Year produced: | 2016 |
| Reviews: | 2 |
| Views: | 3184 |
| Scene ID: | 20459 |

$8.00



Jayce decides after filming with Ariel that, the leftover foam (over 50 cans worth!) looks lonely...she decides to add some of her own touch to make the foam stringy and slimey and smooth! She also has the camera where it feels like you are Right there with her, just watching her play and are so close, you could jump right in! She gets in, get nude and plays in the foam and talks about how awesome this foam feels all over her body! she takes some of her concoction and pours it over her head and then submerges and emerges Over And Over! breathing hard as she comes up and making noises of pure bliss! She makes sure to take off her sexy little club dress and bounce up and down on the top of the foam to make the foam touch her pussy just slightly to give some nice foamy sensations on her clit. She rubs foam all over her ass and does a little bit of ass play for you...rubbing all the foam all over and feeling the awesome tingling and letting you know all about it. The submerging keeps going and the head dunking keeps going before jayce asks for ariel's help in moving the camera up so that she can show you her whole body and show you her wrapping the stringy foam all around her head and torso! it is still in the works but pretty damn awesome! Jayce plays and has an awesome time rubbing all over her tits and pussy and being completely encased in foam before she wipes her eyes and says her goodbyes

super fun foamy vid with lots of fully coated foamy, stringy madness! Loads of submersion and immersion and lots of tingly sensations and moaning bliss! enjoi!
Reviews:
"Jayce's playground is Ariel's leftovers and we all win!"
delete

Its nice to see that recycling is a live and well. And that's just what Jayce has done here.

After helping of her bff with an amazing scene, Jayce can't but help trying it also. Jayce is a natural in the creamy shaving cream goodness. While dressed in a sexy little blue mini dress, that's soon unrecognizable and goes completely missing. As with all of Jayce's' videos she put you right in the action.
"Sticky fomay fun that makes me want to join her."
delete

Wow, this was a fun scene, Jayce really poured herself into this one, curious if that was mash mellow or glue that she added to it, but either way, very Hot. I Highly recommend this one.

Phased Out Again