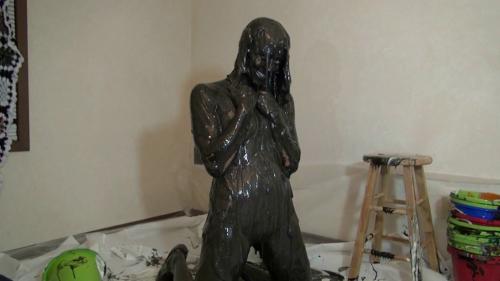 Starring the following model:
"Jayce says forget it and gets in the slop in nothing but heels!"
| | |
| --- | --- |
| File count: | 1 |
| Total size: | 232.52 MB |
| Total runtime: | 6 mins, 48 secs |
| Date added: | 1/26/17 |
| Year produced: | 2013 |
| Reviews: | 1 |
| Views: | 7890 |
| Scene ID: | 8189 |

$4.00



Jaycee, the hottest and most sought-after model, has got a job interview with a high-class fashion label for their Spring/Summer '14 collection. Only problem is, Jaycee's tan has all but disappeared in the winter months. Luckily there's a local salon offering a revolutionary wonder tanning treatment that works in minutes... Not so luckily, Ariel the beauty therapist hasn't got a clue what she's doing! Very soon one small mistake has huge and extremely messy consequences! Jayce is wearing a white dress with black opaque hose and black heels. The treatment starts with 5 big buckets of the thickest black sludge slime you have ever seen! Being poured right onto Jayce's head as the "tanning treatment" can be applied right over the head and absorbs into the skin. It drips slowly down her face, all over her white dress! Just when you think the treatment is over it just keeps on coming! Black sludge dripping ever so slowly and piling up in heaps over her head, lap, shoulders legs and dress! Ariel totally screws up the treatment and read the description as tubs instead of tbs. What a moron! Jayce yells at her as she believes she is going to be completely ruined for this formal event! Ariel assures her she has another idea for a treatment that will help fix this huge mistake! She says she has buckets of all different colors that she remembers from high school if all mixed will make something white...Jayce is totally thrown back but is already covered and is just ready for anything to make it right. Ariel takes out 5 buckets of incredibly colored and incredibly thick slimes to try to fix her huge mistake! She covers Jayce slowly with all the colors, as they drip slowly and mix with the black all over her, the colors make a rainbow all over jayce! The mixture is so thick she can barely breathe but Ariel promises this will work. Once she is finished she looks at Jayce and realizes, that this treatment may not work and by this time, Jayce is fuming! She says she has One more thing that might work. Jayce's hands are tied as part of the treatment and Jayce threatens Ariel but Ariel promises this "shampoo" will work. She pulls out a watery "shaving foam slime" looking shampoo and dumps it on Jayce and tries to make it work. It does not. Jayce tells her to untie her immediately! She looks at what has been put all over her and goes nuts! She shows it off and cant believe what has been done to her. IN the next scene you see Jayce naked and streaked with nothing short of the worst tanning treatment ever! Jayce is nude, mad and demands her purse, throws it over her shoulder and storms out! The last scene: Jayce decides she is already trashed. She wears nothing but heels and decides to play in all the mess. She covers her entire body in the insanely thick mixture turning her completely black. Showing off every angle and covering every part. A very sexy end!

Report