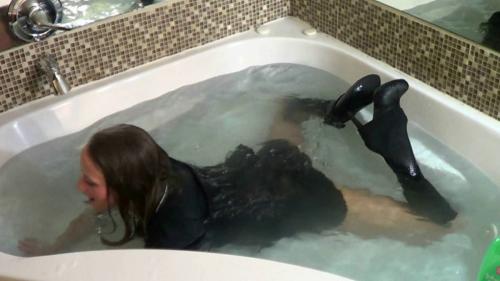 Starring the following model:
"Jayces goes under and out over and over with mini skirt, shirt and heels."
Jayce does a sexy course of submerging and emerging and some sexy movement in the water in between. She is wearing a black mini skirt, a blue collared shirt that hugs her body when wet, heels and some super sexy leg warmers that come to her knees. Everything glistens when wet and Jayce is a natural and going under and coming up beautifully! Her top flows under water but clings as soon as she emerges. She gracefully flows around the whirlpool tub. Taking her time and seductively enjoying herself. She even turns on the jets so she can go under while the jets are on and enjoys that for a while. This is sexy and for wetlook lovers of all kinds! Jayce loves to get wet!
| | |
| --- | --- |
| File count: | 1 |
| Total size: | 319.31 MB |
| Total runtime: | 9 mins, 31 secs |
| Date added: | 12/17/16 |
| Views: | 7202 |
| Scene ID: | 6452 |

$4.99




Report