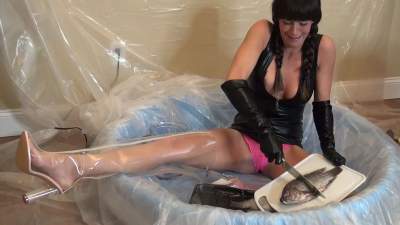 Starring the following model:
"Jayce wants these boots so bad but has to get nasty to get them!"
| | |
| --- | --- |
| File count: | 2 |
| Total size: | 786.91 MB |
| Runtime: | 37 mins, 38 secs |
| Released: | 4/17/17 |
| Views: | 4502 |
| Scene ID: | 22293 |

$9.99



I come home all dolled up for Valentines day...super sexy in my PVC dress, heels and gloves to surprise my man when I see a surprise for me! A big balloon and a box with...over the knee, see-through heels i have been dying to have! I put them on and show them off and I am SO excited but i keep looking around at all this gross stuff on the floor and I dont understand why it is there...i figure my dude has something planned for himself to get messy later...

As I am showing off my heels and how awesome they look, brand new, out of the box, showing off my feet you can see-through the heels, I notice something is in my shoe...its a note...with instructions. These instructions are how I get TO keep the shoes! All that nasty mess? its for ME! it is the grossest most humiliating mess ever! real fish!

i have to cut up and put in a blender with gravy, beans, spaghetti, mushy peas, huge amounts of nacho cheese sauce, cans of tomato sauce, rice pudding, beans, tons of eggs, more gravy, more spaghetti rings, its like it never ends! I have to fill up my boots with all OF this stuff! Then, to make matters worse, i have to dump IT all over MY head and roll around IN IT! I spend a long time chopping up fish, blending it and gagging over the texture and smell...it was awful...

everything I have are some of my most hated savory substances! So, I get to work...i start blending fish heads and guts and body with gravy, and then i start filling the boots with tons of everything. Every consistency is cold and SO disgusting! There is SO much! I go to pour the fish and gravy mixture down my boots and i can feel the fish skin and scales and even pull out a mangled fish head from my boot! barf! i was gagging and laughing at the same time! it was pretty terrible! The smell was so bad but i wanted those boots SO badly! i filled them up until they could not hold anymore! and these were huge boots! then, i sit down and dump all this stuff over my face! I even get huge heaps of the mess from the pool and take even more all over me! I roll in it, i shove it in my panties, my top, everything bc I want to prove I earned these boots! SO embarrassing! super long video with loads of disgusting mess! Plus a shower scene at the end and you get to watch me attempt to clean out my boots i wanted so badly! You get to see the gross stuff that comes off my body! Its crazy! savory lovers, humiliation lovers, enjoy! its was nuts!
Includes these files:
fishheads1stpart.mp4

1920x1080

2,751 Kbps

370.84 MB

18.8 minutes
fishheadspart2umd.mp4

1920x1080

3,093 Kbps

416.08 MB

18.8 minutes

Report