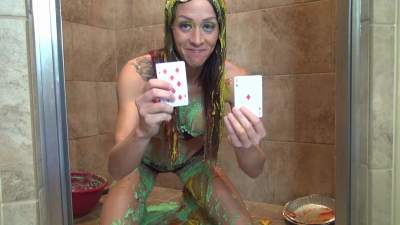 Starring the following model:
"Card game, loser gets messy. Messy instruction to u, I get messy+joi"
| | |
| --- | --- |
| File count: | 1 |
| Total size: | 907.54 MB |
| Total runtime: | 29 mins, 47 secs |
| Date added: | 1/08/18 |
| Year produced: | 2017 |
| Views: | 1210 |
| Scene ID: | 26449 |

$9.00




Report
Wearing my lingerie, we play a card game. You lose the draw and I tell you how to mess yourself up..i draw low and you tell me how to get messed! I am wearing my cute little lingerie set and you have picked savory substances and you are awful when i lose! Its a total game of chance whether or not im gonna get messy but i have my supplies and i am determined im gonna either be clean completely or maybe have one mess on me...maybe. but alas, I lose some rounds, as do you...and when you do, I tell you exactly how I want you to use the mess you have! I explain in detail how I want it applied, where i want it applied and then i poke fun at how messy you are! How sticky you must be and how much i love messing you up! Then when i get my messings! oh my gosh! you are so brutal! Nickelodeon green slimings, a mustard and ketchup pie sandwich? a tartar sauce hair smoothing and shampooing?! but alas, you end up being the winner of the "masturbation" round where I tell you exactly how i want you to jerk your big cock for me with all the mess you have all over you...even though i am in some nasty stuff, my hair is smoothed with mess and the fact that i am telling you how to jerk off for me, is really turning me on and making me touch myself! I even grab more ketchup and start to smooth it through my hair as i grab my titties and plead for you to put your cock in between them and fuck me with your sticky dick! I tell you how i want to climb on top of you, all messy and use your mess as our lube and get filthy together and begin to rub on myself because i am turning myself on so much! I end up getting an orgasm talking so dirty to you! i believe i got you there too ;) savory never got so damn sexy! ;)
Free picture gallery: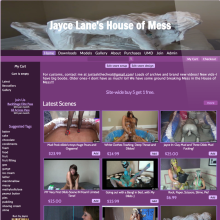 More scenes
Tell others about this scene:
* Promo refers only to
Jayce Lane's House of Mess
's download scenes. The lowest-priced item(s) in your cart from this producer will be made free once you have the required number of items in your cart.