"Dixie coats herself in pink melted mallows while nude!"
Simply enough, Dixie is fully nude and puts pink, melted mallows all over herself, starting legs first and working her way up! She fully coats her body, talking about how warm it is, how sticky it gets over even a few minutes and how crazy it is! she is sticking to the bowls, the mixers, the walls, everything! she coats her entire body besides her face to have some fun watching it stretch and seeing how the mallows become SO stretchy even with a few minutes of cooling! she has never done anything like this before so, its new to her! She plays and then decides to grab a big handful to put over her face adn she cant see anything! She hasnt gotten the eye swipe down to a science yet but she still shows off some crazy stretch while she is completely blinded out! I then decide to turn on the shower so she can wash her face off, bc she cant see, and i get vid of the shower, how sticky melted mallows really are bc even with that hot water, they are barely moving! Then give some commentary along the way as to her first time using melted marshmallows! its an experience I am sure she will not forget. she had a great time, i know that!
| | |
| --- | --- |
| File count: | 1 |
| Total size: | 498.38 MB |
| Total runtime: | 12 mins, 10 secs |
| Date added: | 9/05/17 |
| Year produced: | 2017 |
| Views: | 1319 |

$8.99




Flag it
Free picture gallery: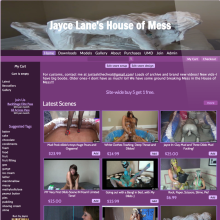 More scenes
30 min

37 min

3 files

40 min

2 files

22 min

16 min

12 min

8 min

8 min

11 min

15 min
Tell others about this scene:
* Promo refers only to
Jayce Lane's House of Mess
's download scenes. The lowest-priced item(s) in your cart from this producer will be made free once you have the required number of items in your cart.