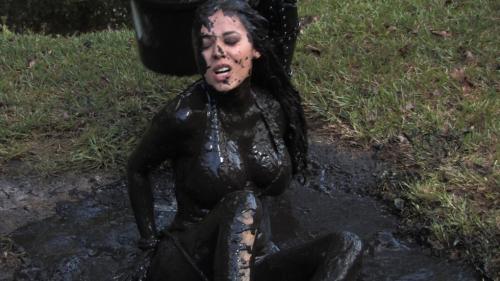 Starring these models:
"Heather Blake shows the new girl who's boss"
This scene opens with Victoria Lee, leaving her home, wearing camo booty shorts and a camo top. She is intercepted by Heather Blake in shiny black leggins and thigh high boots. Heather lies to Victoria so she'll go with Heather in her car, and Heather drives Victoria to a remote area where she ties her hands and leads her to a mud pit. At the mudpit, Heather hogties Victoria and pours buckets of black mud over her as she objects loudly. Heather eventually leaves Victoria there and Victoria escapes. The last 6 minutes are of Victoria cleaning up.
| | |
| --- | --- |
| File count: | 2 |
| Total size: | 299.94 MB |
| Total runtime: | 15 mins, 59 secs |
| Date added: | 9/07/11 |
| Year produced: | 2011 |
| Product ID: | 20110904fmd |
| Views: | 15212 |
| Scene ID: | 2870 |

$15.78