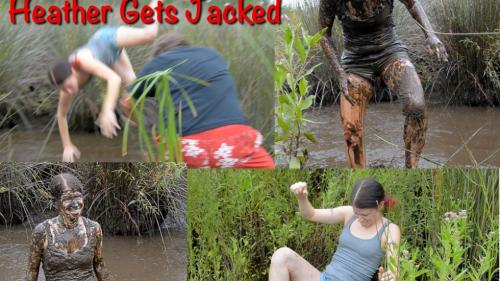 Starring the following model:
"Heather gets tossed into a deep pool of mud!"
Shot on 2013-08-14, this clip features Heather Blake, wandering through the swamp with Jack Killian... lost. Apparently Heather neglected to bring the map... at least that's Jack's story. Heather is playing the brat, so Jack pushes her down in the mud, then he picks her up and tosses her into a large, deep pool of mud. Actually, he does that twice. Heather pleads for mercy as Jack spins her around in the air before heaving her into the mud. Heather continues to give Jack attitude, and she pays for it with more dunking. This clip is great fun to watch. It is offered here in Quicktime format at 1280x720 resolution. The video and audio quality are both excellent.
| | |
| --- | --- |
| File count: | 1 |
| Total size: | 218.94 MB |
| Total runtime: | 9 mins, 35 secs |
| Date added: | 9/08/13 |
| Year produced: | 2013 |
| Views: | 4628 |
| Scene ID: | 7731 |

$10.78

Report

Phased Out Again