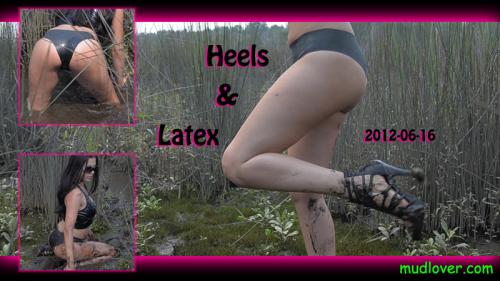 Starring the following model:
"mud+heels+latex=a great time!"
This is our second feature with Victoria Lee. Victoria Lee is hot! This time, she is solo, wearing PVC, latex and high heels in the swamp. The video focuses on Victoria's heels and legs. The mud is not deep, although it's pretty hard to walk in it with high heels. She struts around some, steps into some deep, muddy water, crawls around in the mud, and pretty much manages to make a mess of things. She gets muddy from about the waist, down. This video is 7 minutes of muddy heels and yummy latex

| | |
| --- | --- |
| File count: | 2 |
| Total size: | 179.79 MB |
| Total runtime: | 7 mins, 9 secs |
| Date added: | 6/24/12 |
| Year produced: | 2012 |
| Reviews: | 2 |
| Views: | 8027 |
| Scene ID: | 4342 |

$6.78
Reviews:
"Instant boner"
delete
The chick in this video has an amazing ass, which looks so damn good in those latex hot pants. Her play in the mud was fantastic as well, lots of great sounds and angles of her ass covered in muck.

Only bad part? I would like to hear her complain about it. Adding a story would have been nice as well, to hear her go "Oh my god my new shoes" or squeal when she falls into the mud/water.

Otherwise awesome clip.
"If you like messy high heels, you need this clip)"
delete Great! I love her wet heels) It would be even better, if it would be not sandals, but clodes heels--so water squelched out and her heels made some nice sounds while walking, but sandals are also good.
But it would especially great if the model (she is so beatiful!) sayed something during the clip about her wet and messy feet and how she likes it and so on)
But in the end--it is a really great clip

Phased Out Again