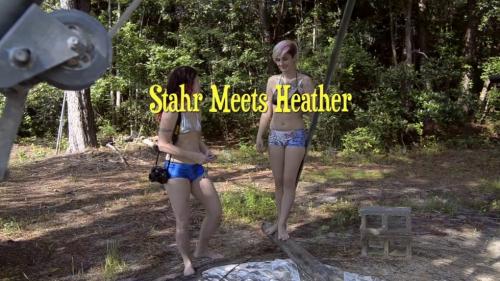 Starring the following model:
"New girl gets sucked into the mud!"
Starh is the new girl. She's never been in the clay pit, so she has no idea what she's in for. Heather is taking photos of Stahr. She talks Stahr into standing on a pole over the clay pit, holding an overhead line for balance. Heather winches the overhead support higher until Stahr is standing on her toes on the pole. Then Heather roles the pole out from under Stahr's feet. It doesn't take long before Stahr loses her grip and falls into the clay. Stahr is instantly stuck in the thick, heavy clay. Heather continues to take photos of Stahr until Heather slips into the pit and gets stuck, herself. The two of them struggle to work themselves free of the pit. The girls are playful and the struggle is authentic. There are many good shots of bare feet, both clean and covered in clay. There are also a few short clips at the end from out-takes and the final cleanup.
| | |
| --- | --- |
| File count: | 1 |
| Total size: | 388.69 MB |
| Total runtime: | 16 mins, 15 secs |
| Date added: | 7/11/14 |
| Year produced: | 2014 |
| Views: | 4535 |
| Scene ID: | 10741 |

$11.78

Report

MessySupplies.com