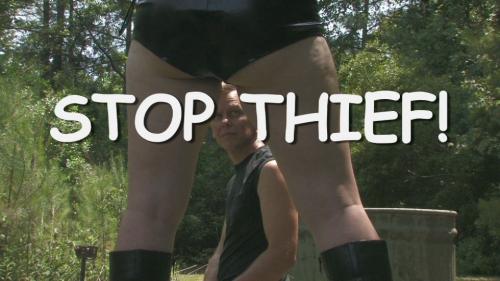 Starring these models:
"They shouldn't let women have guns"
This little drama opens when Doug snatches Heather's wallet and makes a run for it. Heather is dressed in a leather vest, PVC shorts, and leather boots. Doug's luck runs out as he gets stuck in thick mud while running away. Heather catches up easily, and she's totin' a big gun. Doug is forced to return the wallet and handcuff himself. Heather then makes him work his way out of the mud, only to push him back in and climb in on top of him, forcing his head under the thick mud. It looks like Doug will never snatch another woman's purse! This drama is in HD (540p) and is just over 5 minutes long.
| | |
| --- | --- |
| File count: | 1 |
| Total size: | 134.38 MB |
| Total runtime: | 5 mins, 25 secs |
| Date added: | 5/28/10 |
| Year produced: | 2010 |
| Product ID: | 20100528fmd |
| Views: | 5772 |
| Scene ID: | 1087 |

$6.99

Report

Phased Out Again