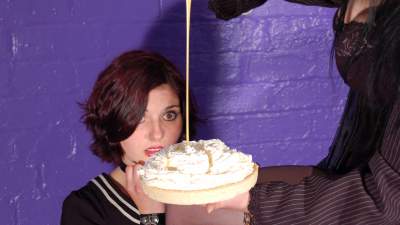 Starring these models:
"Submissive Maude takes multiple pies from Mistress Williomina"
| | |
| --- | --- |
| File count: | 5 |
| Total size: | 2 GB |
| Runtime: | 31 mins, 58 secs |
| Released: | 6/26/17 |
| Produced: | 2012 |
| Product ID: | id-1s001 |
| Views: | 5985 |
| Scene ID: | 23201 |

$15.00
Slave Maude has been a very naughty girl, and must be carefully punished. She's barefoot, dressed in a sexy little black mini-dress over a black bikini, a rubber collar, dog chain, and with rubber bondage cuffs on her wrists. Mistress Willomina, who will be dishing out the punishment pies, is wearing a high-slit floor length pinstripe skirt, stockings, fabric-and-lace bustier, pinstripe shrug, PVC underbust corset, and high heeled buckle-strap ankle boots.

Pies come first, with bakery crusts and custard and squirty cream filling, delivered skilfully to Maude's face and head by the very dominant Willomina, followed up with further custard flans. Maude also receives a crotch-pie. There's lots of D/S play, and Maude being made to sit in the corner while yet more custard is poured all over her. Eventually Willomina decides Maude has been punished enough, they kiss, and Willomina allows herself to be drawn into the mess too. Kissing and fondling follows, including Maude giving particular attention to Willomina's ample breasts, and there is lots of giggling as they enjoy each other, and more kissing.

Both Maude and Willomina end up drenched from head to foot in custard including full face and hair coverage.

The video scene includes the hosedown, which ends with another kiss while the water plays over their heads. The hosedown photosets also include some shots of Maude being hosed down in just her underwear and Mistress Willomina's high heeled boots.

Technical: All the videos for this scene include full original sound.