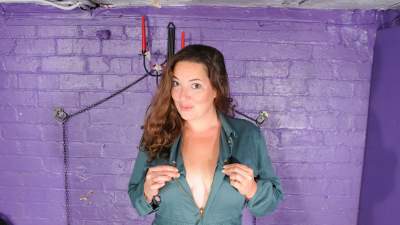 Starring the following model:
"Mypierogative demonstrates just how sexy a tight-fitting boilersuit can be!"
| | |
| --- | --- |
| File count: | 3 |
| Total size: | 1.9 GB |
| Runtime: | 29 mins, 51 secs |
| Released: | 8/02/17 |
| Produced: | 2017 |
| Rating: | |
| Product ID: | id-1k002 |
| Reviews: | 1 |
| Views: | 3495 |
| Scene ID: | 23684 |

$15.00
Maria has heard through the grapevine that some people don't think boilersuits can be sexy, and sets out to demonstrate just how sexy they can be. She dresses in a green suit with nothing underneath it, and assisted by Honeysuckle, in smart office wear, she slowly but steadily gets messy, all the while demonstrating how she can use the tight-fitting suit to massage herself, including cameltoe, and controlling which leg gunge being poured into the suit will flow down. Because control is everything when you want to be sexy.

She speaks directly to camera all through the scene, describing what she is doing and feeling, and how much she is enjoying herself too!

She has mess poured into her suit front and back, thrown at herself, and poured all over the outside, she ends up completely drenched in mixed mess from head to toe.

Messes used include: eggs, custard, gateaux, tomato soup, and cream, and as well as having things poured into her suit and over her head, Maria also does some cake sitting, which she comments feels wonderful in her tight suit, and has soup thrown at her crotch and bottom while standing up.

Honeysuckle, in a very smart office dress, tights, and smart shoes, does all the pouring and throwing but stays clean herself through the whole scene.

The videos are in HD and have full original sound throughout.