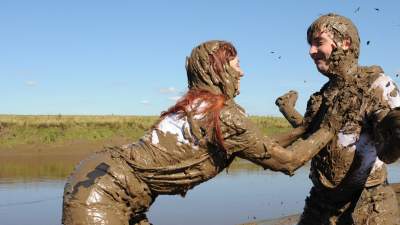 Starring these models:
"A lovely couple totally plaster each other with mud"
| | |
| --- | --- |
| File count: | 5 |
| Total size: | 2 GB |
| Runtime: | 23 mins, 35 secs |
| Released: | 10/05/16 |
| Produced: | 2016 |
| Product ID: | id-1m001 |
| Views: | 24910 |
| Scene ID: | 19613 |

$15.00
Mud glorious mud!

Take two lovely people, a really fun-loving recently married young couple, identically dressed in blue jeans and white t-shirts, and give them the opportunity to completely drench each other in mud, and this is what happens!

Lady Willow and Lord Robert are long-time friends of the family at Saturation Hall, and are also both qualified civil engineers with an interest in drainage and river engineering, so we asked them if they'd like to inspect the flood banks down at Marsh House. Needless to say the inspection soon turned into a spectacular mud free-for-all and they totally drenched each other in mud, including full hair and face coverage!

They step into the mud together, laughing all the while, they merrily throw mud over each other while crawling and sliding through it, jeans get drenched, then t-shirts, and then they coat each other's hair in mud too. There's lots of playful pushing and throwing in the sloppy mud at the top of the bank, eventually the roll and slide down towards the water, they have a go at mud sliding but the slope mud is a bit too thick this time, so lots of crawling in sloppy gullies and playful mud battles, before they eventually crawl back up the bank, totally and utterly drenched in mud from head to toe, and pose, silhouetted against the sunlight.

Technical: There is full original sound throughout this scene. The video is in three parts to comply with file size limits, part 1 is the initial stepping into the mud and covering each other, part 2 is playing in the mud and rolling and sliding down the bank, and part three has each of them do a "Superman" jump-splat full length in a sloppy gully, more play fighting, and the final crawl out.

In addition to the main video you also get a detailed high-resolution photoset, plus a bonus extra video of Lady Willow squishing mud through her completely drenched long red hair.
Includes these files:
id-1m001-therushingtonsinthemudbanks-part-1.zip

3216x2136

Zip file of 203 photos

668.23 MB

sizes may vary
id-1m001-v1a-the-rushingtons-in-the-mud-p1.mp4

1920x1080

17,005 Kbps

877.83 MB

7.2 minutes
id-1m001-v1b-the-rushingtons-in-the-mud-p2.mp4

1920x1080

16,150 Kbps

981.03 MB

8.5 minutes
id-1m001-v1c-the-rushingtons-in-the-mud-p3.mp4

1920x1080

16,324 Kbps

845.72 MB

7.2 minutes
id-1m001-v2-mud-hair-squishing.mp4

1920x1080

14,354 Kbps

66.91 MB

0.7 minutes

Report