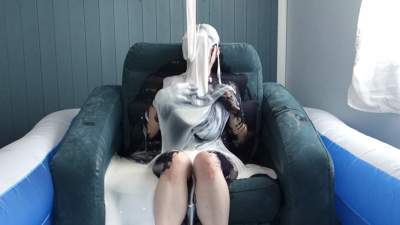 Starring the following model:
"Stella gets 35 gallons of purple and white gunge poured all over her."
Ever just wanted to sit back, relax, and have buckets and buckets of slime poured over your head? Well, me too! The contrast between the ice cold purple slime and the white hot gunge being poured over me was almost too intense to bare. After a while it was hard to stay up as the amount of gunge was making me slip out of my seat. I try to get back up, but the gunge filling the pool was just calling my name.
| | |
| --- | --- |
| File count: | 1 |
| Total size: | 856.73 MB |
| Total runtime: | 14 mins, 24 secs |
| Date added: | 6/26/18 |
| Year produced: | 2018 |
| Reviews: | 1 |
| Views: | 4066 |
| Scene ID: | 29102 |

$5.00



Reviews:
"This is why I love Stella!"
delete
This movie sums up why Stella is one of my all time favourite producers/models. The slime in this movie is intense! Very thick and gooey! Stella seriously gets lost in the moment and she keeps sliding off the chair! She repeatedly dumps the thick slime all over herself making sure she is covered head to toe! It was awesome to see Stella try and walk in it! This movie is shockingly messy! If you had to buy one today, then buy this. Man, the things I would do to become Stella's personal nerdy English slave.

Report

Report