Stella Covered with Cake Batter and Chocolate
Produced by Stella's Store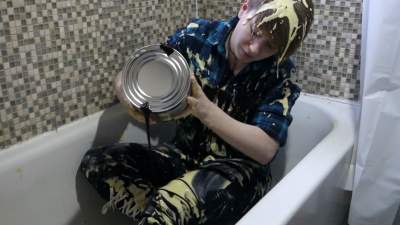 Starring the following model:
"Stella ruins her clothes with cake batter and chocolate syrup."
If anyone has ever seen me get messy before they can agree that I have a hard time keeping my clothes on. However, I felt it was time that I just really trash my outfit. After all, there is nothing quite like the intoxicating disgusting feeling of sticky, gooey, messy clothes clinging to your body. Dressed in pristine skinny jeans, one of my favorite flannels, and knee high converse boots I set out to get messy. I start gradually, flicking drops of cake batter onto my clean clothes. Then I lay back and begin to drizzle the chocolate from my boots all the way to the top of my head. I work the mess into the fabric and feel it stick to me. I needed more. I pour the goop into my clothing, filling the inside up. I squirm in the mess until I can't stand it any longer. I know I said I wanted to keep everything on, but I couldn't help myself. I strip off my shirt, pour mess into it, get it really messy, and loosely wear it over my exposed chest. This makes the fun I have with myself even more direct and enjoyable.
| | |
| --- | --- |
| File count: | 1 |
| Total size: | 724.36 MB |
| Total runtime: | 14 mins, 9 secs |
| Date added: | 1/30/17 |
| Year produced: | 2017 |
| Views: | 3378 |
| Scene ID: | 21318 |

$4.50



Includes this file:
stella_covered_with_cake_batter_and_chocolate.mp4

1920x1080

7,148 Kbps

724.36 MB

14.2 minutes

Report MessySupplies.com