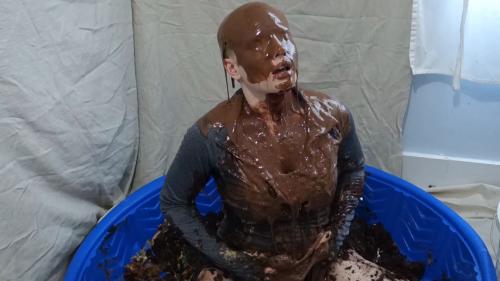 Starring the following model:
"Stella covers herself in cakes, slimes, pies, jelly and custard."
What's better than shoving a cake into yourself? Laying down so many you make a little cake bed to roll around in. I gently get into a kiddie pool full of an assortment of cakes, careful not to let my running shoes get messy just yet. I sit down over a layered creme cake and pick it up in anticipation. Fingers trembling, I set it down, adjust myself slightly, and start shoving as many cakes into me as I can. As they crumbled against my gym clothes, I got the feeling cake alone was a little dry. Of course, that's nothing chocolate cake slime can't fix. I dump the mixture over myself. The thick stringy slime instantly turns my crumbled cakes into a gooey mess. From there, I go wild with baked goods such as pies, tubes of custard, and raspberry syrup. The mess becomes so thick and sticky I even got stuck to the bottom of the pool and struggled to free myself. When I eventually got loose, I stripped my clothes off for my final bucket of cake mix and my last two pies. Completely covered, I allow myself to lose it in the mess.
| | |
| --- | --- |
| File count: | 1 |
| Total size: | 1016.33 MB |
| Total runtime: | 23 mins, 8 secs |
| Date added: | 8/01/16 |
| Year produced: | 2016 |
| Reviews: | 1 |
| Views: | 7820 |
| Scene ID: | 18941 |

$6.00



Reviews:
"Sexy fun with Stella in thick, gorgeous goo! Love it!"
delete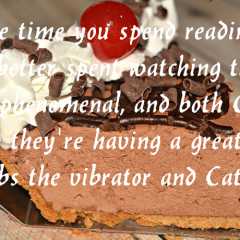 There's not a lot in this imperfect world that's hotter than Stella enjoying herself in a pool of thick goo. This video has plenty of different kinds of mess in it, in a variety of colors and textures, and she takes her time with each new addition to the pool. Since this is Stella we're watching, you can be sure that every step of the way is stuffed full of sloppy, sexy energy that starts building the second she gets into the pool, and doesn't let up until the shuddering, gooey afterglow fades to black.

Report

Report

Phased Out Again