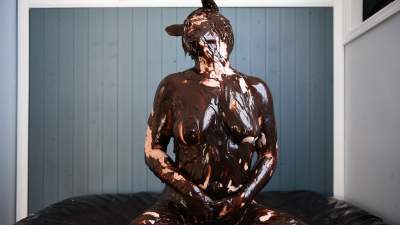 Starring the following model:
"Stella dresses as a bunny girl and gets covered in melted chocolate."
Ever wonder what life would be like if you were made of chocolate like a chocolate bunny? I sure have. I made that fantasy into a reality by turning myself into one. To make my disguise it took all of my cunning, 15 lbs of melted chocolate, and a pair of bunny ears. Turns outs that being coated in gooey melted chocolate was even better than I thought it would be. Sure I used chocolate syrup before, but to have the warm, smooth, velvety chocolate coat your entire body is a completely different sensation. It clung to my body, covering me in thick layers of chocolate. I needed it to be everywhere. Stripping off my panties allowed the sweet melted goodness to cover every last inch of my body. It was so wonderful I almost forgot that I had a backup gallon of chocolate syrup to add to the mix. Once I temporarily regained my senses I poured the syrup over my already chocolate covered self. It was cool in comparison, and flowed over my body, getting every last patch of bare skin completely coated.
| | |
| --- | --- |
| File count: | 1 |
| Total size: | 779.26 MB |
| Total runtime: | 15 mins, 18 secs |
| Date added: | 4/01/17 |
| Year produced: | 2017 |
| Views: | 4545 |
| Scene ID: | 22089 |

$5.00




Report
Free video trailer:
Free picture gallery: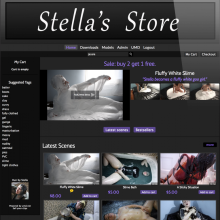 More scenes
Tell others about this scene:
* Promo refers only to
Stella's Store
's download scenes. The lowest-priced item(s) in your cart from this producer will be made free once you have the required number of items in your cart.