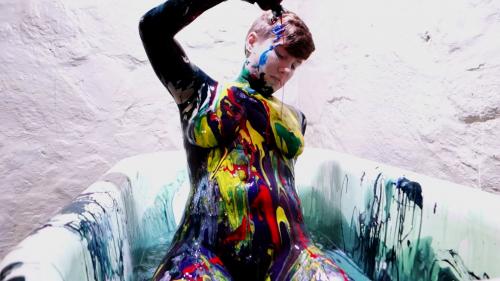 Starring the following model:
"Stella paints her naked body in tub full of gunge."
I can be very indecisive when it comes to what color to make my slime. However, there is a solution I came up with. Why not just paint myself multiple colors instead? I get into the tub full of gunge and grab a tub of black paint. I pour it onto my chest and begin rubbing all over my body. From there I pour layers of different colors over myself and let them cascade over me. when I an completely coated in paint I lie back in the gunge enjoy how it feels against me. To my surprise, it pulls the paint away from me, more or less getting me clean. I paint myself a few more times before just enjoying myself in the gunge.
| | |
| --- | --- |
| File count: | 1 |
| Total size: | 876.07 MB |
| Total runtime: | 22 mins, 22 secs |
| Date added: | 9/16/16 |
| Year produced: | 2016 |
| Views: | 4942 |
| Scene ID: | 19496 |

$5.00



Free picture gallery:

Report