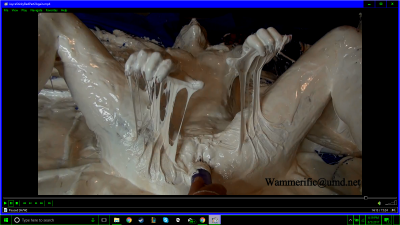 Starring the following model:
"Jayce fully coats in mallow and gummis, tied up and POV dildo fuck!"
| | |
| --- | --- |
| File count: | 2 |
| Total size: | 1.15 GB |
| Total runtime: | 40 mins, 23 secs |
| Date added: | 8/16/17 |
| Year produced: | 2017 |
| Views: | 7580 |
| Scene ID: | 24111 |

$25.99



Jayce gets fully coated in 5 gal of fluff, gummis, tied up and POV dildo fucked in bed! She starts off by slowly pouring and taking big handfuls of the super warm melted gummi bears and putting them on her chest and letting it set to where it pulls and tugs on her skin...creating and awesome effect and amazing feeling of pulling and looks like webs coming from her body! She is playful at first and then decides she is gonna put some melted gummi all down her pussy and ass and feel the tug and pull from her pussy and ass! You have to see the amazing web of melted gummis all over her naughty parts while she is laying in bed! She then gets her 5 gallon bucket of fluff and starts to rub it all over her body. coating every part and watching herself in the mirror as it flows with the already sticky gummis on her body...it is amazing feeling and she is loving every minute and you can tell by her moans, squeals and sheer awe of all the mess! She shows off the stretch and pull of all the crazy mess all over her body, rubbing her pussy, her tits, bending over and spreading her ass to show you her ass and pussy and her whole body while swirling it around all over her! She then pulls out some more of her melted gummis to top off her full body coverage of mallow to add to it and make an even thicker, and stickier mixture all over herself. it pours like glistening taffy and she is loving it! she rubs it all over her, moaning with pleasure, showing off every part of her body before she decides its time to complete the job. She grabs a huge handful of mallow and slams it into her face and coats her head, hair, and everything else she can coat! She then gets out her hitachi wand and starts to masturbate, hardcore...she is stretching the mallow from her pussy, then laying back and showing her pink pussy poking through the mallow from cumming, and keeps cumming! She then decides she needs more coating and coats herself more before the real fun begins...

Jayce is so turned on, she decides she wants her legs tied to each post of the bed, putting herself spread eagle and she is ready to get properly fucked! You get to watch her get fucked by her big purple dildo, pov style like you are there, fucking her with a dildo yourself! you watch it go in her pussy adn come out a mallow mess and go back in...you get to watch her grab her legs while she starts to climax and then cum all over this big dildo, covered in mess, going in and out of her pussy..she tells you to fuck her harder and you do and she cums again...completely covered in mess, laying back, tied up to your submission...and loving every second! and yes, this was jayce typing in the third person ;) catch this video at the intro price of 20.99!
Includes these files:
jaycestickybedpart1again.mp4

1920x1080

3,708 Kbps

663.17 MB

25.0 minutes
jaycestickybedpart2again.mp4

1920x1080

4,687 Kbps

516.45 MB

15.4 minutes
Free picture gallery: MessySupplies.com