First Quarry Trip of the Summer
Produced by trashed.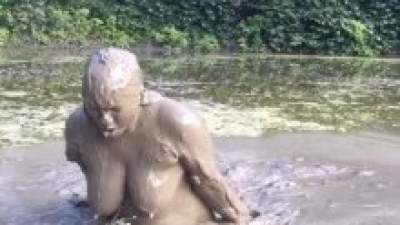 Starring the following model:
It's my first quarry trip of the season! We've had a very slow start to our summer here in Seattle, so when we got an 80 degree day, I jumped on it! I went out by myself and crawled through some prickly vines and set up my camera. I filmed just after I was sure the workers were gone. I wore a blue pair of panties and a blue bra as I first got into the mud. I sank pretty fast and you can hear me struggling through the thickest parts. The mud felt amazing on my body so I quickly ditched the bra and panties. I was so horny, I started humping the mud. I turn around and you get a nice view of my muddy behind. I do some head dunks and smear big handfuls of mud over my face and hair. Unfortunately the first head dunk is slightly offscreen. But I had lots of fun and I went home with dead bugs in my hair and cuts everywhere from the blackberries! It was hard to wash off this time and I was in a hurry so I drove home with lots of mud caked in my hair!
| | |
| --- | --- |
| File count: | 1 |
| Total size: | 536.2 MB |
| Total runtime: | 17 mins, 29 secs |
| Date added: | 7/06/18 |
| Year produced: | 2018 |
| Product ID: | 07 |
| Reviews: | 3 |
| Views: | 1798 |
| Scene ID: | 29237 |

$7.99 MessySupplies.com