From: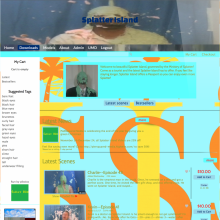 Splatter Island
Starring:
Here's the full scene:
40 min
"Tomas hacks his way through Splatter Island"
Preview trailer:
Tomas is a hacker who lives in his mom's basement. He thinks he can play around with the system on Splatter Island to keep him from getting certain messes. But, Splatter Island has a few more defenses than he is aware of!
* For
VIP
users only. The "no trailers" option means you won't see any videos that correspond to for-pay downloads. No guarantees that you won't still see other types of promos.