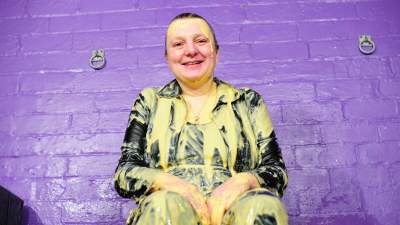 Starring the following model:
"Evelyne the Cook fills her waterproof trousers with custard!"
| | |
| --- | --- |
| File count: | 4 |
| Total size: | 2 GB |
| Runtime: | 12 mins, 1 sec |
| Released: | 10/03/17 |
| Produced: | 2015 |
| Product ID: | gm2f165 |
| Views: | 1588 |
| Scene ID: | 24487 |

$12.00
The only real rule here at Saturation Hall is that everyone should enjoy their gunge. And so here we have Evelyne the Cook, who's a bit older than most of our people but who really loves to get messy, dressed for the occasion in dark blue waterproof trousers, black Spandex swimsuit, and a rather curious rubberised jacket she's particularly fond of, plus wellies of course--and she's not staying clean for long!

Custard sitting comes first, as Evelyne carefully lowers her Nylon-clad bottom into an inch-deep tray of sloppy yellow custard, squelch! This makes a beautiful mess of the seat of her trousers, but of course being waterproofs the mess is only on the outside. That will never do for one of our people, so having stood up to show off her messy bottom, she sits back down in the custard, facing forwards--and she happily pours two full cartons of lovely yellow gloop down inside her trousers, where it collects in a pool around her lower trunk and upper legs, soaking into her swimsuit and wetting her nicely inside the clothes. And then she stands up again, sending a wave of custard down inside the clean legs of the trousers and into her boots.

As well as filling her trousers she also fills her swimsuit, then takes her jacket off, drapes it over the custard-filled tray she was sitting in and slops handfuls of custard from the floor all over it, covering it inside and out--she then puts it back on again.

And of course her freshly styled jet black hair gets the full custard shampoo treatment too. Can't leave that clean!
Includes these files:
gm-2f165-part-1.zip

3216x2136

Zip file of 291 photos

945.81 MB

sizes may vary
gm-2f165-part-2.zip

3216x2136

Zip file of 267 photos

946.02 MB

sizes may vary
gm-2f165-part-3.zip

3216x2136

Zip file of 61 photos

224.56 MB

sizes may vary
gm-2f165-v1-evelyne-waterproofs-custard.mp4

1920x1080

7,374 Kbps

634.43 MB

12.0 minutes

Report