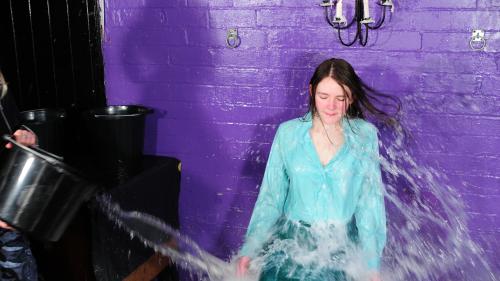 Starring these models:
"Chastity just wants to be drenched!"
| | |
| --- | --- |
| File count: | 2 |
| Total size: | 622.83 MB |
| Runtime: | 2 mins, 32 secs |
| Released: | 8/14/15 |
| Produced: | 2013 |
| Product ID: | gm-2q019 |
| Views: | 4222 |
| Scene ID: | 15130 |

$5.00
Chastity had said simply that she wanted to be soaked and drenched in milk. So we ordered her into a uniform of green knee-length skirt, pale green blouse, and boots, and sent her into the dungeon and Felicity's tender mercies.

Felicity starts out gently, with a litre of milk poured into Chastity's blouse where it flows down inside before leaking out at her waist and flowing all over the front of her skirt and into her lap.

No sooner has the first pour finished, and barely before Chastity has had a chance to feel the milk seeping down into her underwear, than Felicity breaks out another litre of milk and pours it all over Chastity's front, soaking most of the rest of her blouse. And then Felicity hefts a large pink bucket of milk, and pours it all over Chastity's blouse and skirt in one massive deluge of milk!

Even as the remains of that deluge are still flowing through Chastity's clothes, Felicity breaks out three large buckets of warm water, throws two of them, with considerable skill, all over her victim from the side, and then dumps the last one directly over Chastity's head from above.

Note this was originally a bonus extra scene for members in a five week month. It was shot during an evening when Chastity got soaked and milked multiple times in different outfits, hence her hair is damp from the start of the scene. However her outfit, and the swimsuit she's wearing under it, are completely dry until the first milk is poured on. Her skirt was brand new, never worn before.

This is how we wet the wenches!
Includes these files:
gm-2q019-part-1.zip

3216x2136

Zip file of 140 photos

530.17 MB

sizes may vary
gm-2q019-v1-chastity-green-skirt-milk-and-hot-wate.mp4

1920x1080

5,082 Kbps

92.66 MB

2.5 minutes

Report