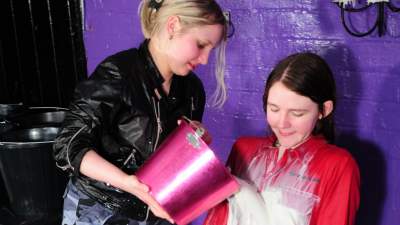 Starring these models:
"Chastity gets thoroughly doused in a red boilersuit"
| | |
| --- | --- |
| File count: | 4 |
| Total size: | 1.4 GB |
| Runtime: | 8 mins, 4 secs |
| Released: | 9/22/15 |
| Produced: | 2013 |
| Rating: | |
| Product ID: | gm-2q020 |
| Reviews: | 1 |
| Views: | 4051 |
| Scene ID: | 15476 |

$5.00
We recently took delivery of some smart new uniforms for the outside staff, tight-fitting, figure hugging bright scarlet boilersuits, with the Hall's name in black embroidery on the left breast, so the neighbours will know where to return any wayward staff they might fish out of their mudpits.

Of course any new uniform deployed on this estate has to be thouroughly tested before use, testing which Felicity, who's rapidly becoming maid of all she surveys in the upper house, takes enthusiastic control of. Young Chastity knows she is in for a very thorough drenching this time!

Milk testing comes first, poured straight in at the back of Chastity's neck to soak down her back and come flooding through the tight-fitting fabric around her shapely bottom. Then more milk down the front and back of the suit, inside and outside. There's a double-pour, a carton down each shoulder, to test for balanced flowing, and then a full hair and face drenching, just for fun.

And then the water testing starts, multiple large buckets of water hurled mercilessly over Chastity until she's utterly drenched from head to foot, and her black wellies well filled by the flood running down her legs.

The uniform has passed muster with flying colours, so off Chastity goes wearing it to start her day's work in the gardens, dripping wet from head to toe, as is right and proper in these parts.

Technical: The videos in this scene have full sound throughout. As well as the main video you also get a second video of Chastity being hosed down afterwards, still wearing her drenched boilersuit and boots. In addition there are very high-resolution photos in two zip files.