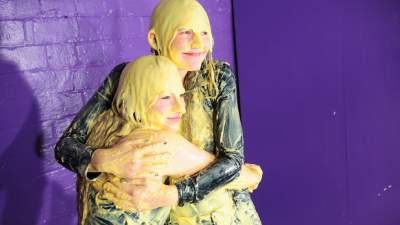 Starring these models:
"Chastity and Daphne thoroughly fill each other's clothes with custard"
| | |
| --- | --- |
| File count: | 8 |
| Total size: | 2 GB |
| Runtime: | 43 mins, 12 secs |
| Released: | 4/20/17 |
| Produced: | 2014 |
| Product ID: | gm-2f169 |
| Views: | 4190 |
| Scene ID: | 22292 |

$15.00
Chastity challenges the newly arrived Daphne to prove she knows her way round a clothes filling session. Which she does admirably!

Outfits: Chastity wears dark sliver disco pants, charcoal dance leotard, thin shiny short jacket, and black shiny wellies with gold detailing. Daphne wears black disco hotpants over dark blue Spandex leggings and a black swimsuit, with transparent wellies.

The two girls take turns to fill each other's clothes, starting with runny custard down the back of chastity's trousers, then Daphne's shorts get filled and the custard both seeps through the material and also drips out and down her Spandex-clad legs. Once their shorts and trousers are well filled Chastity's leotard and Daphne's swimsuit get the treatment, and the two girls take time to carefully pour and spread custard all over the outside of their outfits too.

Pies are involved, Chastity takes a nice pie sandwich to each side of her head and they pie each other on their bodies too. And to finish, both girls give each other a thorough custard shampoo and a full custard facial.

By the end of the scene both girls are totally drenched in custard, and then there is a fully-clothed hose-down.

Both girls have a lot of fun with this one, Chastity is one of our most experienced models while this was Daphne's second ever messy scene, but they both really hit it off with each other and also really liked each other's outfits--and reducing them to sticky messes. Lots of smiles and laughs in this one, and some genuine very messy hugs too.

Technical: The videos for this scene have full original sound. The main scene, 30 minutes in three parts, has no crew chatter, just the girls laughing as they reduce each other to sticky messes, the separate 12 minute hosedown video does have some direction audible. All videos are in full-hd. Although the girls use some pies there is no face pieing, though there is full face custard pouring. You also get just under a thousand high-resolution still photos of the messy section, shot on a Nikon semi-pro dslr camera.
Includes these files:
gm-2f169-part-1.zip

3216x2136

269 photos

945 MB

sizes may vary
gm-2f169-part-2.zip

3216x2136

269 photos

945.73 MB

sizes may vary
gm-2f169-part-3.zip

3216x2136

267 photos

946.1 MB

sizes may vary
gm-2f169-part-4.zip

3216x2136

200 photos

487.18 MB

sizes may vary
gm-2f169-v1a-daphne-and-chastity-payback-p1.mp4

1920x1080

7,716 Kbps

511.26 MB

9.3 minutes
gm-2f169-v1b-daphne-and-chastity-payback-p2.mp4

1920x1080

9,675 Kbps

734.92 MB

10.6 minutes
gm-2f169-v1c-daphne-and-chastity-payback-p3.mp4

1920x1080

10,648 Kbps

819.98 MB

10.8 minutes
gm-2f169-v2-daphne-and-chastity-hosedown.mp4

1920x1080

9,228 Kbps

831.2 MB

12.6 minutes

Report