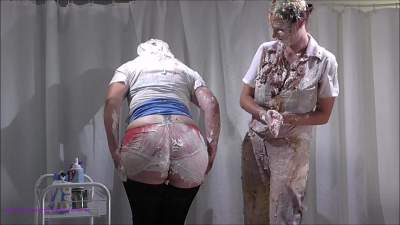 Starring these models:
| | |
| --- | --- |
| File count: | 1 |
| Total size: | 599.93 MB |
| Runtime: | 11 mins, 45 secs |
| Released: | 8/09/18 |
| Views: | 2397 |
| Scene ID: | 29662 |

$9.99



Cleo and Michelle do messy shoe filling, and use gateaux, trifles, pies, yoghurt, syrup, squirty cream, pouring cream, and ice cream sauce to totally destroy each other, as our scene reaches a climax, with a happy ending. After a brief recap of Part One, we are off and running with the conclusion of this great story.

First up..it's shoe filling. Firstly Michelle pours golden syrup into Cleo's shoe and invites her to put it back on, which we see in glorious close-up, with the syrup oozing everywhere. She then covers Cleo's shoes and trousers with squirty cream. Cleo isn't standing for this and makes Michelle take off her shoe, before filling it with natural yoghurt...gross. Then, again in glorious close-up, Michelle has to put it back on. Cleo then scoops up the surplus yoghurt and rubs it in. Michelle then gets pouring cream and pours it down the back of Cleo's blouse, and also down the back of, and Inside the back of, Cleo's beautiful jeans. She then does the same with a pot of yoghurt.

Cleo picks up yet another gooey creamy pie..just how many were there at this cafe! and having taunted Michelle with it, she shoves it into Michelle's face. Michelle gives a resigned sigh, and puffs out her cheeks as pie cream slides down her once beautiful face.

Michelle grabs another pie, and smears it all over the front of Cleo's blouse, and cleavage, before following up with some chocolate sauce to the cleavage.

Cleo reaches for a trifle and tips it straight over the top of Michelle's head, and so Michelle picks up a chocolate gateaux and shoves handfuls of it into Cleo's cleavage, before smearing more of it all down the back of Cleo's white jeans. Cleo gets another pie (really!), turns Michelle around, lifts up her skirt, pulls down her tights and shoves the pie into the back of Michelle's knickers.

The front of Michelle's once immaculate black tights are now covered in pie and mess too.

She wants revenge and so she grabs a trifle and puts it splat on top of Cleo's head. Before Cleo can do anything, she gets a jar of golden syrup and smears syrup all down Cleo's trouser legs. Then she gets the back of the trouser legs with squirty cream and assorted slops. The girls are totally trashed from head to toe. We then hear Mortimer discussing with the girls how trashed they are, and telling them he expects them to resolve their differences before returning to the office. The girls decide to make-up and be friends and the scene concludes as they have a very messy hug of friendship.

Report