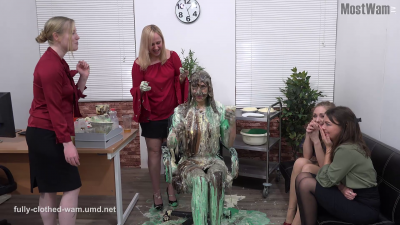 Starring these models:
| | |
| --- | --- |
| File count: | 3 |
| Total size: | 1.9 GB |
| Runtime: | 32 mins, 48 secs |
| Released: | 5/03/18 |
| Rating: | |
| Reviews: | 3 |
| Views: | 8077 |
| Scene ID: | 28216 |

$14.99



It's finally available. The next scene we shot at the famous Slymsford's meets MostWam summit. A terrific 26 minute scripted scenario..plus free bonus wash-off too

Starring Charlotte, Sky and Casey from MostWam get totally trashed by Messy_Miss Michelle and Satine from Slymsford's..with a cameo from Lisa Moomin

Lisa tells Charlotte she has a great opportunity for her. A company who have managed to achieve amazing productivity and behaviour from their staff are coming in to give a presentation on how their unique disciplinary process 'the treatment' works..and Lisa is happy for Charlotte to attend in her place. Hmmmm...naughty Lisa!

Charlotte is really excited at this opportunity..but needless to say, she isn't quite as happy once Michelle and Satine have told her how the demo works and that she's the victim. She takes enormous amounts of pies, cakes, trifle, gunge, cream, custard, honey all over her face, hair, hosiery, her gorgeous clothes, and even inside her expensive shoes. Two trolley's worth of mess leave her totally destroyed.

Charlotte's colleagues Casey and Sky find this hilarious...but not for too long, as there's plenty of mess to go round!

They are sitting underneath the gunge vats, and when they laugh at their boss's misfortune too much..they get throughly gunged..and then creamed, pied and messed up more for good measure. 26 minutes of delight..plus bonus clean-up footage. MessySupplies.com