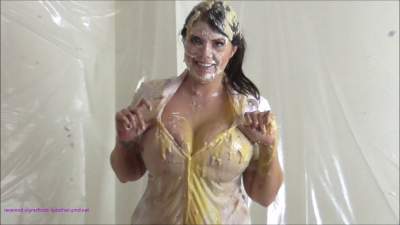 Starring the following model:
| | |
| --- | --- |
| File count: | 1 |
| Total size: | 868.81 MB |
| Runtime: | 19 mins, 51 secs |
| Released: | 9/12/18 |
| Views: | 3353 |
| Scene ID: | 30144 |

$7.99



Social Media starlet Terri-Lou aka Kylie visits an expensive restaurant, but is outraged to be told she has to actually pay. The whole 'do you know who I am?' routine doesn't work, and when the (unseen) manager hears she has called the waitress names, and made her cry, he makes sure Terri-Lou gets totally trashed! He starts by throwing a pie right in her face. Next he makes her remove her shoes and he pours custard in one, and rice pudding in the other, before making her put them back on!

Then he pours custard down the outside of the back her jeans, before pulling them forward and pouring custard inside, to ruin her knickers.

He then follows up with chocolate custard down the backside of the jeans and makes Terri-Lou rub it in.

He then makes Terri-Lou undo her top buttons to reveal some cleavage, and immediately pours rice pudding down that tempting cleavage, following up with custard over the front of her once white blouse, and even makes her rub it in...oh the humanity!

Terri-Lou's torment continues as she is forced to rub rice pudding into her hair, before the waiter makes her open the front of her jeans, revealing her black knickers, and pours chocolate custard inside them, before making Terri-Lou grab handfuls of chocolate custard and rub it into the front of her jeans.

She is then forced to turn round, bend over, and receive a pie to the bottom of her pretty jeans. The waiter really rubs it in with enthusiasm and the backside of her jeans gets covered. The waiter then makes Terri-Lou turn round, and throws custard into her cleavage, before making her rub more on the outside of her blouse. Then he brings out the cream and sprays squirty cream into her ample cleavage, before spraying more into her hair and making her give herself a creamy shampoo.

He then sprays squirty cream down the inside of the back of her jeans, before making her rub more squirt cream over her face and her top. He then pours caramel sauce into her cleavage.

Terri-Lou pleads that she has had enough, but will he show mercy or is there still more to come?

Report