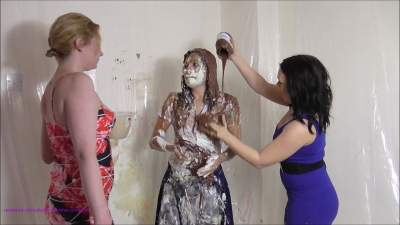 Starring these models:
"Cute secretary takes pies, nutella and more. Shoes, clothes etc all trashed"
| | |
| --- | --- |
| File count: | 1 |
| Total size: | 771.68 MB |
| Total runtime: | 18 mins, 13 secs |
| Date added: | 8/08/17 |
| Views: | 3506 |
| Scene ID: | 21102 |

$10.99



After the build-up where we establish Rascal is frequently late, and where Kacie manages to persuade the Union Rep it would be fun to humiliate Rascal with pies, cakes and gunge, the trashing is on.

They let Rascal know that accepting this punishment is the only way she can keep her job. Rascal is sporting a tight fitting white short sleeved blouse, and a pretty blue skirt, and Kacie starts by delivering a pie to Rascal's pretty face.

Next up it's cherry yoghurt, ruining the beautiful blouse, then they turn Rascal around and she gets a gooey custard pie to the bottom.

Then Kacie hands the Union Rep Amber a thick gooey flan and suggests they ruin Rascal's knickers. Kacie lifts the back of Rascal's skirt revealing cute black knickers.

splatt...the creamy topping completely covers the panties, ruining them, while Rascal moans in discomfort

then Kacie grabs a jug and pours freezing cold custard into Rascal's hair. Then Amber pours thick chocolate porridge into the hair too, so it is now completely ruined

Next up it's a lime pie to the front of Rascal's once pretty skirt. Her blouse, meanwhile, is beginning to go see-through.

Then they lift the front of Rascal's skirt, revealing her pretty black knickers. Amber wants to pour ice-cream inside them 'are we allowed to do that?' she asks. Kacie encourages her and the ice cream is poured inside the knickers and also ends up going down Rascal's legs

Kacie then pours chocolate sauce all down the front of the blouse..it is increasingly hard to believe it was white!

Amber then delivers a cake to the face..and pours green gunge over Rascal's head...though her aiming with the gunge needs some work it has to be said!

Next Kacie makes Rascal step out of her shoes, her bare feet going into the accumulated, slops, whilst Kacie pours yoghurt into Rascal's pretty black shoes.

Amber throws the remains of the yoghurt over Rascal's trashed blouse, while Rascal increasingly desperately tries to remove the mess..but only succeeds in rubbing it in more.

Thick gooey nutella is next, smeared all over the pretty blouse, and then into her hair, matting it down and making it a horrible sticky mess. Next they tell her to take her blouse off, and knowing it is utterly trashed, Rascal pulls the buttons open, revealing her clean, pretty red and black bra. Amber takes care of that by pouring a jug of porridge over it and her bare midriff. Next its nutella on the back of the skirt, and a lime pie over her bare back which is looking far too clean. Kacie pours cream over Rascal's lovely bra, whilst Amber smushes a pie into Rascal's cleavage, and finally it is more cream over the hair

Is Rascal's ordeal finally over?

Report
.