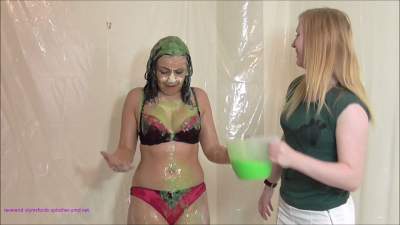 Starring these models:
"Sadistic Satine Spark punishes bratty Kacie with pies, cakes, gunge etc"
| | |
| --- | --- |
| File count: | 1 |
| Total size: | 730.21 MB |
| Total runtime: | 16 mins, 6 secs |
| Date added: | 5/09/17 |
| Views: | 3677 |

$9.99




Flag it
Gorgeous Kacie James ends up naked and totally humiliated..covered in pies, trifle and gunge. * Upskirt view as brat Kacie bends over in her tiny school skirt

*Humiliation and embarrassment. Kacie ends up naked and trashed, in front of her sexy teacher

* Sadistic teacher laughs and loves destroying Kacie and covering her in thick gooey pies

Here's how it unfolds:

Naughty Kacie James in her sexy uniform, is in the teacher's office for detention.

Why? Because her skirt is too short and everyone can see her knickers. Naughty Kacie. Teacher Satine Spark, who is a lot sexier than the teachers at my old school, gets Kacie to bend over, and teacher is right..Kacie's bottom, and naughty thong underwear are revealed in all their glory, proving the skirt is too short.

Kacie must be punished and Satine starts by planting a gooey pie right on that gorgeous bottom. Next up it is a carton of cream all over the front and back of that pretty uniform blouse. Cruel teacher Satine asks "did you spend long on your hair this morning?" "Yes" wails bratty Kacie as Satine pours the cream in her hair. "Well maybe you shouldn't have spent so long on it" laughs Satine. "Do you like trifle?" asks Satine and when Kacie says yes, she gets it in the face..the cream sticks to her face ruining her make-up, whilst the rest of the trifle is smeared over that pretty school uniform blouse

Next up, its a thick creamy pie over the front of the skirt, followed by a jug of thick custard over the head for our hapless victim

Then it's on to golden syrup, gently poured down the back of the uniform blouse. The sadistic teacher is clearly enjoying it 'your blouse is just getting ruined" she laughs

"Oh it feels so horrible" laments Kacie

After pausing to have a good laugh at how trashed Kacie is, Miss Satine makes Kacie take off her ruined blouse and skirt, revealing a very sexy underwear set.

Satine picks up a pie and smears it over Kacie's bottom, getting any bits that she missed earlier

Now its time to give Kacie James a good gunging. Green gunge goes over the head, and into the cleavage, and then over the front of the knickers. Then it's squirty cream over the front of Kacie's bra and knickers, before squirting more inside her knickers.

Next up its thick strawberry sauce, all down Kacie's arms, then into her cleavage and down her back. Handfuls of thick porridge are next..over Kacie's neck and decolletage.

For extra humiliation Satine makes Kacie take off her bra and knickers. Now this naughty schoolgirl is named and helpless before the cruel sadistic teacher, who immediately takes the opportunity to rub porridge into Kacie's boobs. Then it's a thick creamy pie to the pussy for Kacie, followed by strawberry yoghurt over Kacie's head, which then flows down and ends up coating her beautiful naked bottom.

Satine takes a final opportunity to laugh at poor Kacie, and then the scene finishes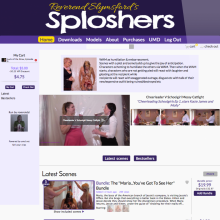 More scenes
11 min

19 min

12 min

10 min

24 min

5 files

26 min

4 files

13 min

2 files

18 min

12 min

16 min

17 min

18 min

19 min

14 min

8 min
Tell others about this scene:
* Promo refers only to
Reverend Slymsford's Sploshers
's download scenes. The lowest-priced item(s) in your cart from this producer will be made free once you have the required number of items in your cart.