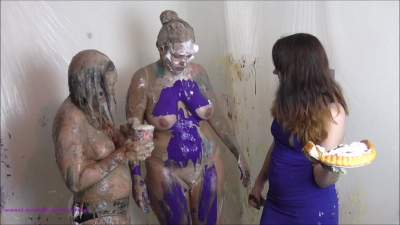 Starring these models:
| | |
| --- | --- |
| File count: | 1 |
| Total size: | 610.47 MB |
| Runtime: | 13 mins, 4 secs |
| Released: | 7/09/18 |
| Views: | 2569 |
| Scene ID: | 29238 |

$9.99



Curvy Molly is totally trashed, and stripped, by Kacie and Lauren..taking pies, gunge, porridge and even paint!

After a quick recap of part 1 where Kacie James was trashed by a twitter celebrity (played by her real life sister Lauren) we resume. Kacie's boss Molly thinks she is getting away clean, but No...Lauren decides she wants to trash her too. She gives Kacie the final decision though, and of course Kacie says "I think we should trash her!"

Lauren starts by pouring cream over the front of Molly's blouse, and over the top of her head. Kacie eagerly joins in, keen to get her revenge on Molly, and smears nutella all over the front of Molly's once white blouse. Lauren ups the ante and pours chocolate porridge over Molly's head, before Kacie grabs a pie and smushes it straight into Molly's face.

Kacie then takes a jug of gunge and chocolate porridge slops and pours it down the inside of Molly's blouse. Naughty Kacie!

The naughty girls then get Molly to hold a flan case for them, whilst they pile it high with cream, before pieing her in the face with the pie she has helped them make! They then turn her around and Kacie empties an entire tub of ice-cream over Molly's skirt, before Lauren gets Kacie to lift up Molly's skirt, and then empties an entire trifle inside the front of Molly's knickers

Molly is then made to remove her top and skirt, leaving her in just her bra and thong.

She is made to turn around and Kacie just can't resist planting a thick gooey pie square onto that beautiful bottom...with the thong offering Molly no protection at all.

Lauren then pours a tub of gunge over Molly's ample front before Kacie coats her arms and cleavage in chocolate porridge

Then Kacie grabs a tin of purple paint "You know you wanted me to redecorate" she laughs, and sets about redecorating Molly, pouring the paint down Molly's front..getting her legs, her cleavage etc. "You obviously didn't do the redecorating then" sighs Mollie..."Well this is much more fun" laughs Kacie cruelly

Off come Molly's bra and knickers and she is left naked and humiliated in front of her employee and the customer

Kacie grabs a tub of porridge and rubs the porridge into Molly's ample boobs

before they turn their victim around and deliver a pie to the bare bottom.

Then Kacie pours more chocolate porridge over Molly's head

Finally Kacie picks up a bucket of gunge and pours it right over the top of Molly's head, before leaving the bucket on her head for added humiliation

There's no more messy supplies left..but Lauren still isn't finished. She makes Kacie and Molly sit down in the slops and rub it over themselves. Lauren says she has had such a fun time, she will leave a great review for the restaurant and they will get loads of new customers...and with that she leaves.

This scene is part of the amazing Buy Two Get 1 Free Offer..pair with just one more scene, and choose a free one.

Report