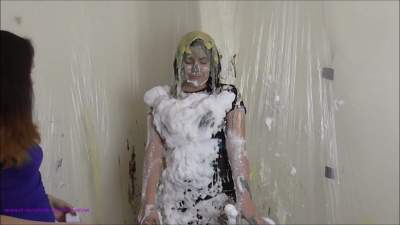 Starring these models:
"Kacie totally trashed and stripped naked with clothes ripped and cut off"
| | |
| --- | --- |
| File count: | 1 |
| Total size: | 905.44 MB |
| Runtime: | 18 mins, 21 secs |
| Released: | 7/08/18 |
| Views: | 2820 |
| Scene ID: | 29156 |

$12.99



Wow! 18 minute epic. Kacie James totally trashed, stripped and clothes ripped and cut off, by rl sister Lauren, and Molly.

Kacie starts nude. She puts on her brand new sexy underwear set, including stockings and suspenders and a gorgeous tight fitting black dress, which really suits her, before going off to waitress at a cafe.

We cut to her apologising to a twitter celeb (played by Lauren). When Lauren says she'll tweet her followers about how rubbish the cafe is, Kacie's boss Molly offers the customer the opp to throw a pie at Kacie to resolve the issue.

Kacie can't believe it and protests that she has bought a new outfit and is going out straight from work but cruel Lauren doesn't care. spllatt! Gorgeous Kacie gets pied in the face...even Molly can't help laughing at this. So when the customer says she wants to throw another pie, Molly readily accedes. This pie lands splatt on top of Kacie's head, and Molly loves it..so she encourages the customer to go to town and use whatever she wants on Kacie

Lauren grabs a jug of chocolate sludge and pours it over Kacie's hair, before getting a jug full of blue gunge and tipping that over her too

Next up Lauren grabs a tub of creamy yoghurt and pours that over the front of Kacie's once beautiful dress

Lauren suggests Molly should join in, so Molly sprays her with the fire extinguisher, before Lauren pours a carton of custard all down the back of Kacie's dress, before pouring it over the top of her head and over her beautiful hair

Lauren then takes the 'fire extinguisher' from Molly, and sprays the front of Kacie's dress.

Molly then grabs a pie and gets Kacie with a pie in the face.

Lauren says she needs a clean target and gets Molly to tell Kacie to remove her dress. But Kacie refuses. Uh Oh...surely there won't be clothes ripping and cutting involved will there?

Molly gets out her scissors."You wouldn't dare" gasps Kacie..but to Kacie's horror Molly cuts, and then rips the dress off, until gorgeous Kacie is left in just her underwear

Lauren grabs a pot of strawberry yogurt and throws it over Kacie's front, then Molly pours golden syrup inside Kacie's lovely bra, ruining it, and then squirts the golden syrup over the front of Kacie's knickers, and then inside them too. Then naughty Molly grabs a jug of porridge and engages in some lovely knicker filling, pouring it down the back of Kacie's full knickers. Kacie gets more gunge poured down her back, before Lauren pours gunge over Kacie's head

Then despite Kacie's protests, they cut off her bra and knickers.Then Lauren pours chocolate porridge down Kacie's back

Now Kacie is just in her stockings and suspenders. She gets chocolate porridge over the head and then melted nutella rubbed into her bare boobs and into her hair.

Then she takes a pie to the bottom from Lauren, before Molly gives her a final pie to the pussy.

This scene is part of the amazing Buy Two Get 1 Free Offer..pair with just one more scene, and choose a free one.

Report