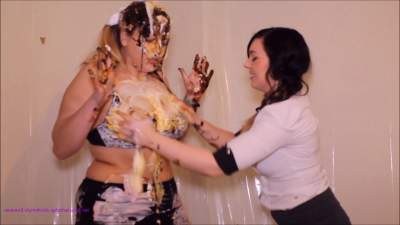 Starring these models:
"HR rep Molly checks 'the treatment' and gets it from Kacie James."
| | |
| --- | --- |
| File count: | 1 |
| Total size: | 488.54 MB |
| Runtime: | 15 mins, 25 secs |
| Released: | 11/01/17 |
| Rating: | |
| Reviews: | 1 |
| Views: | 4104 |
| Scene ID: | 21467 |

$9.99



Uh Oh! Stuck-Up Molly from Head Office has come to ensure that 'the treatment' is a fair and appropriate sanction for naughty girls in the office. She has the power to ban Kacie James and the other office girls from giving 'the treatment' and she really doesn't think it is a ladylike punishment. The girls meet in the office and Molly fires some questions to Kacie, and Kacie tells her all about the treatment and how much fun it is to gunge and pie other girls. She uses all the key words from WAM to really build your anticipation, talking about how much she enjoys destroying another girl with pies. We all know what's coming for poor Molly!

Then Kacie offers to show Molly the substances they use, and the girls erotically hold the pies and cakes and jugs of gunge..Kacie talks about where she likes to use them "down someone's knickers" or "this one over the front of a new dress." "Wouldn't you love to pie someone in the face with this?" she asks and the girls hit all the trigger words in their discussion. Snooty Molly thinks this is very inappropriate for the office, and is just asking to get a good pieing imho. She says she really needs to try it out to asses whether it can be used in the office.

Quick thinking Kacie says she should give the demo as she is a professional. She wants her revenge on this stuck-up HR rep who is trying to ban the treatment. When Molly is unsure, Kacie promises to only do a little bit but I think we know how much that reassurance is worth!

They move to the WAM room and Kacie picks up a pie:

"Errr I don't think I want to do this now..I've changed my mind" says Mollie...so Kacie asks you "What do you think guys? Should I let her have it?" Kacie uses loads of pies, treacle, chocolate trifle, yoghurts, chocolate custard, gunge and cakes over hair, in the face, inside the bra, down knickers etc to destroy uppity Molly. "Surely that's enough!" wails Molly as indignity upon indignity is heaped upon her, but somehow Kacie's promise to go easy on her has been forgotten and she just keeps going!

Just when Molly thinks things can't get any worse, Kacie starts undoing Molly's blouse

"My make-up is ruined! My hair is ruined..my clothes are ruined" laments Molly

Having removed the blouse, and pied Molly again, Kacie pulls down Molly's skirt

and carries on destroying Molly's gorgeous underwear. "You've trashed everything" cries our humiliated victim

Kacie removes Molly's bra and knickers and finishes her off with pies to Molly's boobs, bottom and pussy.

She is left utterly humiliated.

"Now you can see just how effective 'The treatment' is at changing behaviour..and why you have to sign it off for approval" she laughs. please note..this was AN early scene filmed ON MY original camera which occasionally goes A little out OF focus. I don't feel it has any significant impact on the key parts of the video, but I have set the price at $9.99 instead of $14.99 to acknowledge this imperfection.

Report