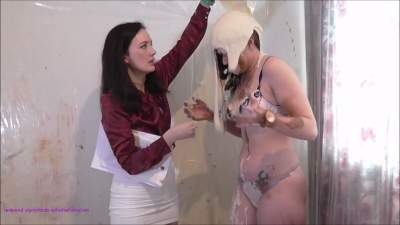 Starring these models:
"Faye x Taylor thinks Honour May is a temp and destroys her by mistake"
| | |
| --- | --- |
| File count: | 1 |
| Total size: | 668.35 MB |
| Total runtime: | 15 mins, 20 secs |
| Date added: | 10/02/17 |
| Reviews: | 2 |
| Views: | 4549 |
| Scene ID: | 21919 |

$7.99



Gorgeous Rich Assistant Area Manager Honour May is mistaken for a temp and gets destroyed with pies, cakes, ice cream sauce, chocolate custard, and oatmeal gunge

Faye is wearing a lovely new deep red blouse and a short white skirt. She has been asked to check that all the supplies for the treatment meet union regulations. We see her picking up and examining some items. Her friend rings and she admits she wishes that rather than just physically checking them etc, she could throw them over a temp. Just then deputy are manager Honour May arrives. Faye doesn't recognise her and thinks she is a temp. Honour is wearing a lovely white and black dress, and also lovely black stockings which she cheekily flashes for us. She brags about how much her dress cost..it's brand new and only arrived yesterday She also boasts about her expensive handbag being so much better than Faye's, and her lovely watch.

Faye asks if Honour will help her with a scenario and poor unsuspecting Honour agrees. Faye outlines why Honour will be getting the treatment and Honour plays along thinking it is just a hypothetical scenario..when Faye says her dress will have to be destroyed, Honour laughs 'oh yes, completely destroyed'. Faye starts to check materials against the union guidelines. She picks up a pie but is concerned it won't cover the whole of Faye's face as per the guidelines. Faye decides to try and she pushes the pie full into Honour's face. "What on earth do you think you are doing?" splutters an outraged Honour "Oh my make-up", while Faye laughs She decides maybe that pie wasn't big enough, and grabs an even bigger one "Oh my God..you can't possibly have been told to do this" wails Honour I'm covered"

"Oh my dress..my beautiful beautiful dress!"

Faye splats a third pie in Honour's face

"This is unbelievable treatment..DO you know who I AM?" Faye grabs a banoffee pie "No seriously..this is a brand new dress" begs Honour "I have just told you how expensive this dress is" Splat! The pie is smashed into her beautiful dress. "This can't possibly be happening" Next up it's lovely chocolate custard down the front of Honour's dress

"You've no idea how much I loved this dress"

Next it's strawberry sauce over Honour's hair "Oh not my hair! What would the ladies at the salon say?"

"Mortgages come cheaper than this watch" yells Honour as Faye destroys it in chocolate custard "You will pay for this!

When Honour loses her cool and calls Faye a naughty word, Faye decides her dress should come off, leaving Honour in her lovely matching lingerie

Faye pours oatmeal gunge inside Honour's bra, and over her lovely hair "Oh my God..this will never come out!"

"Oh my God..this is insane" she yells "Oh I can feel it running down my panties!"

"Look at me..I have a meeting in an hour"

Honour clearly needs revenge...but that will have to wait for another day, as we leave her embarrassed and humiliated.
Reviews:
"Love watch wam"
delete

Great vid. I am a watch fetishist. Would love more focus on the wrist watch but great vid to watch. Hope there is more watch wamming to come.

Report
"A great scene!"
delete

Excellent video of the lovely honour may and faye,

Honour's reaction to her lingerie being gunged is always great especially with her pantys, looking forward for part 2, would love to see faye get stripped and trashed!

Report