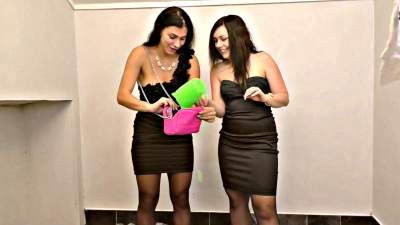 Starring these models:
"Epic gunge girl on girl with dresses, tights, handbags, heels."
Amazing mega bargain! Epic gungey destruction and girl on girl action! Kacie and Roxy are in tights, heels, jewellery and gorgeous dresses looking very elegant and lovely. They also have a new handbag each! It's literally handbags gunge and glad-rags at dawn. Unfortunately they also have a full on set of challenges--including filling the bags with gunge, then their new high heeled shoes, then their beautiful, elegant new dresses plus head dunking and more! The only challenge they fail is when I finish reading out the challenges, I leave the room and tell them to behave. Soon as my back is turned those gungey gals get mischievous and raunchy--they can't get enough of each other and they kiss, fondle and play with each others gunge covered tits, asses and pussies finally giving each other nice loud intense pussy licking orgasms!
| | |
| --- | --- |
| File count: | 1 |
| Total size: | 690.21 MB |
| Total runtime: | 19 mins, 1 sec |
| Date added: | 12/15/17 |
| Year produced: | 2017 |
| Views: | 5825 |
| Scene ID: | 25213 |

$5.96 50% off!

$2.98




Report