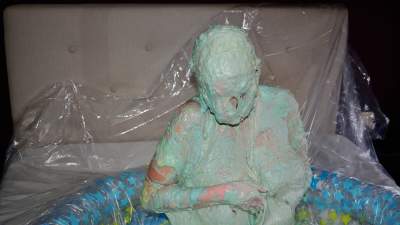 Starring the following model:
| | |
| --- | --- |
| File count: | 2 |
| Total size: | 466.83 MB |
| Total runtime: | 14 mins, 44 secs |
| Date added: | 1/07/18 |
| Views: | 1130 |
| Scene ID: | 26422 |

$9.00




Report
Ever wanted to see a girl completely coated in very thick, sticky, multicolored batter? Well... here is your chance because Cleo is to get covered in the stuff you dream of. Not just a little bucket, but nearly 20kg of thick, oozing batter.

The scene starts with Cleo sitting in her kiddy pool, dressed in nothing more than a sweet pink nightdress. She tilts her head back and a thick load of green batter slowly starts to cover her sweet face. It runs down over her shoulders onto her lovely big boobs.

Loving the texture of the batter, Cleo starts to cover her skin with it and keep scooping it up to cover her head.

A second bucket, this time with lovely blue batter, gets tipped over her head and the slow running goo completely covers her face again. Massive blobs of it run down her gorgeous curves into her lap. With even more batter now to play with, Cleo keeps covering every inch of her body.

When she sees the third bucket coming, she tilts her head completely backwards and waits eagerly to receive yet another batch of heavenly batter. This time a pink and very sticky batter joins the mess while she keeps turning her head to cover it completely. Nearly invisible under the doughy gunge, Cleo keeps covering herself with it and keeps enjoying her playtime with the lovely substance. She gets so hot and excited that she even decides to slip the nightdress of her shoulders to reveal her big and messy boobs!

A fourth bucket with blue batter joins the fun and gives Cleo her final coating. Her boobs get covered completely with the exception of a naughty nipple sticking out from time to time. She excites herself even more by rubbing the dough between her sweet legs, showing off her messy boobs even more!

______________

This download also contains:

80 pictures (1200x800)
Free video trailer:
Includes all of the following files:
batter.zip

1200x800

Zip file of 80 photos

69.94 MB

sizes may vary
cleo_in_thick_rainbow_batter.mp4

1280x690

3,657 Kbps

385.46 MB

14.7 minutes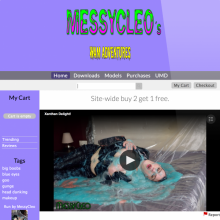 More scenes
8 min

11 min

16 min

2 files

14 min

4 min

10 min

2 files

12 min

16 min

9 min

39 min

20 min

17 min

19 min
Tell others about this scene:
* Promo refers only to
MessyCleo's WAM adventures
's download scenes. The lowest-priced item(s) in your cart from this producer will be made free once you have the required number of items in your cart.