"The Amazing Adventures of Kylie and her natural GGs"
Gorgeous Kylie and her natural GG boobs, in her first two messy adventures. Also featuring the amazing My Pierogative Maria, who takes great pleasure in dishing out the mess.
| | |
| --- | --- |
| Number of scenes: | 2 |
| File count: | 2 |
| Total size: | 1.09 GB |
| Date added: | 10/05/17 |
| Views: | 706 |

Bundle price:

$14.99

Originally $19.98




Flag it
Includes These 2 Scenes
Buy individually, or get both together and save $4.98.
$9.99



Kylie ends up naked and destroyed after Maria has used pies, gunge, cakes and more to nail her with We start with a brief summary of Part 1, where Maria had begun giving...
$9.99


2 reviews!
New Girl Kylie (playing the character of Kayleigh) gets totally trashed by Maria. Pies, syrup, treacle, cream, yoghurt, gunge and more..she takes the lot and is totally...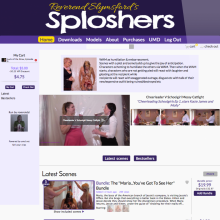 More scenes
Tell others about this scene:
* Promo refers only to
Reverend Slymsford's Sploshers
's download scenes. The lowest-priced item(s) in your cart from this producer will be made free once you have the required number of items in your cart.