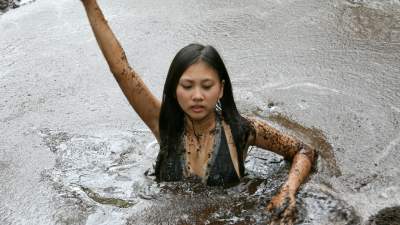 Starring the following model:
"Angel, sinking and messing her nubile body in a wet bog!"
Angel shows that she's ready for the next level of Wet and Messy when she completely submerges her body in a watery bog. But don't let the water that is showing fool you. Just below the surface is mushy peat that gets thicker and heavier the deeper she goes. There's no doubt that Angels can feel this oozing past her skin when she moves through it. And it sticks her hair when she comes up, making a delicious looking mess! And then there's the treat of watching her drag her body out of the pit. Angel has a delightful shape, rounded, and yet obviously firm. Purchase this, and let Angel fully sink into your imagination. This purchase includes the feature video, plus a complete hi-res photo set. A great value!
| | |
| --- | --- |
| File count: | 2 |
| Total size: | 544.68 MB |
| Total runtime: | 9 mins, 18 secs |
| Date added: | 9/13/17 |
| Year produced: | 2009 |
| Product ID: | QSVAEWP |
| Views: | 1224 |
| Scene ID: | 24376 |

$6.99
Includes these files:
mpvangelexplorepeatii.zip

1600x1067

Zip file of 276 photos

136.93 MB

sizes may vary
mpvangelexplorepeatiihd.mp4

960x720

6,124 Kbps

407.75 MB

9.3 minutes

MessySupplies.com