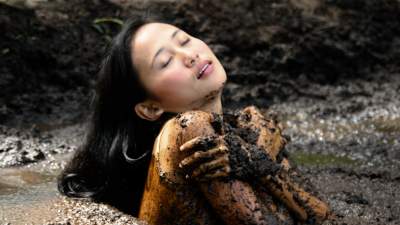 Starring the following model:
"Nina, four times, even though once is more than enough!"
| | |
| --- | --- |
| File count: | 3 |
| Total size: | 1.93 GB |
| Runtime: | 29 mins, 10 secs |
| Released: | 1/11/17 |
| Produced: | 2009 |
| Product ID: | QSVNEPE |
| Views: | 1858 |
| Scene ID: | 20931 |

$16.99
Nina gives the Philippines peat a workout--sinking in four separate outfits! In part one, she starts out with a dramatic response while wearing a shiny string bikini and a sarong, tied around her waist. After walking around the perimeter of the pit, she works her way into the deep part and starts sinking. She unhappily sinks to her neck before finding some traction and hauling herself out. In her second scene, she's wearing a short cotton skirt and a print spaghetti strap top. This is an erotic response and Nina does a good job 'enjoying' the sensation of sinking up to her neck in the wet goo. After a brief fade to black, she is shown crawling out of the pit, covered with muck.

In part two, Nina sinks twice more, but this time with submersions. She continues with the arousal, wearing maroon colored 'sweat' shorts and a tangerine colored cotton top (no bra). She sinks up to her neck, really enjoying herself, and the slips under the surface. She re-appears a moment later, and crawls out of the wet peat. In her final appearance, Nina is sporting pink short shorts and a lacy green top. It's more drama this time as she struggles against the pull of the mire and sinks below the surface. Again, she re-appears totally covered and climbs out, completely filthy and exhausted.

This purchase includes the feature video, in two parts, plus a complete hi-res photo set. A great value!
Includes these files:
mpvninaextendedpeatbogexploring.zip

1917x1280

Zip file of 514 photos

278.82 MB

sizes may vary
mpvninaextendedpeatbogexploringpt1hd.mp4

1280x720

8,126 Kbps

964.21 MB

16.6 minutes
mpvninaextendedpeatbogexploringpt2hd.mp4

1280x720

8,126 Kbps

731.56 MB

12.6 minutes

Report