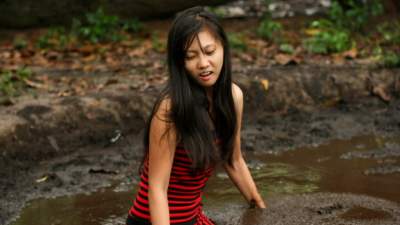 Starring the following model:
"Drama and Arousal in One Sexy Package!"
Angel looks great in a short sleeveless dress and boots as she sinks in a peat bog during a rain shower. She offers a nice mixture of arousal and fearful reactions. She submerges at the end of part one. Part two begins with Angel emerging from her first submersion and the submerging twice more. She flashes some interesting looks at the cameras in both parts. Definitely a deeper look into Angel's layered personality.
See more of Angel at Muddypinays.com
| | |
| --- | --- |
| File count: | 3 |
| Total size: | 1.19 GB |
| Total runtime: | 23 mins, 57 secs |
| Date added: | 1/04/15 |
| Year produced: | 2009 |
| Product ID: | QSVAMR |
| Views: | 4111 |
| Scene ID: | 13320 |

$14.99
Includes these files:
mpvangelinpeatmixedreaction.zip

1600x1067

Zip file of 534 photos

170.18 MB

sizes may vary
mpvangelpeatarousalandfearpt1hd.mp4

1280x720

6,123 Kbps

560.71 MB

12.8 minutes
mpvangelpeatarousalandfearpt2hd.mp4

1280x720

6,125 Kbps

489.16 MB

11.2 minutes

Report MessySupplies.com