Vintage Film 4: Wsm Ll Fix It--stream 4
From: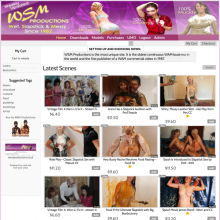 WSM Productions
Here's the full scene:
12 min
"A visit to a restaurant will never be the same!"
Preview trailer:
This Stream is unusual as everything revolves around a single scene.

But what a scene this is!

We hear Debbie speak to request a Fix It for herself.

Then the resplendent Bill Shipton in best 'Jim Will Fix It' tradition introduces the scene. Shot in August 1989 at the Harbour Heights Hotel in Tenby, South Wales, we have the proprietor Chris Taylor, very eloquently pleading as a waiter with two pretty ladies to follow their main course with a pudding.

Now these ladies are Carol and Debbie.

Carol is dressed in an ivory silk jacket, green blouse, knee length beige skirt and beige heels plus white knickers and a white suspender belt to contrast with her black stockings.

Debbie wears a red long sleeved silky dress, black Nylons with black suspender belt and black heels, plus contrasting white knickers.

As a result of the waiter's pleadings, Debbie orders 3 cr笥 caramel!

Carol asks for 'plenty of trifle'!

After agreeing to cream, the action really kicks in as Chris gets carried away.

Naughty Debbie grabs handfuls of cream.

Then we see Carol get the cream drenching of her life as she receives rivers of cream!

Next, golden syrup cascades down on Debbie.

Then raspberry sauce cascades over Carol, making a nice contrast with the cream. Carol sits on the floor stroking the glossy raspberry syrup over her legs and clothes.

Debbie then gets a huge cascade of cream.

Then Debbie is on the floor.

Her dress and hair are wonderfully glossy and shiny.

Both girls get marvelously messy and there are some great facial expressions throughout.

8 minutes into this Stream, Carol takes her blouse off, then Debbie her dress.

Both girls are braless!

Dark chocolate sauce cascades down over the pair.

The girls smear each other.

Surely there is nothing more delicious than to see Debbie's 38DD's totally smeared in dark chocolate sauce! So the girls end up unbelievably messy.

But seeing is believing, so do check out the Free action Clip to see our messy duo.

Then a final jingle brings this Stream to an end.

Phew! A visit to a restaurant will never be the same!

major aspect – Carol and Debbie really enjoy their desserts in one of the messiest restaurant scenes we have filmed! Runs 11 mins 36 secs
* For
VIP
users only. The "no trailers" option means you won't see any videos that correspond to for-pay downloads. No guarantees that you won't still see other types of promos.