Vanessa Ruins The Kandy Kane Skit: Close Angle
From: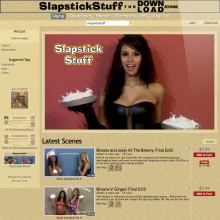 SlapstickStuff Download Store
Starring:
Here's the full scene:
55 min
"Closeup angle from SS174 S1."
Preview trailer:
Another tiny bikini, another rejected script! Vanessa thinks the idea of "Kandy Kane" is ridiculous, so instead she does some foxy boxing, creates more wall art, insults the producer... and falls into Two giant Costco cakes! And more pies, thrown slime, and a final watering...

Closeup angle only.
* For
VIP
users only. The "no trailers" option means you won't see any videos that correspond to for-pay downloads. No guarantees that you won't still see other types of promos.