From: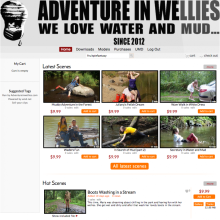 Adventureinwellies.com
Starring:
The full scene:
13 min
Preview trailer:
How great is the feeling of warm thick mud covering your body, thought Maria, when went to her secret place of dirty pleasures.

She wears her red shiny raincoat, black tight leggings and high heels sandals. After falling and walking in mud, she went barefoot and cleans her outfit.

Flag it