Breana Meets The Weird Producer: Wide Angle
From: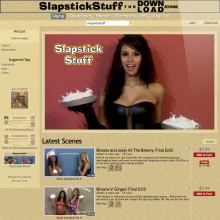 SlapstickStuff Download Store
Starring:
Here's the full scene:
39 min
"The wide angle from SS172 Scene 2."
Preview trailer:
Breana tells off the super-weird producer, so he retaliates with lots of pies and 3 thick slimes! She gets her revenge at the end tho! (Too bad she forgot about the cake.) Classic mix of old-school SS mess, new gags and that bikini! Wide angle only.
* For
VIP
users only. The "no trailers" option means you won't see any videos that correspond to for-pay downloads. No guarantees that you won't still see other types of promos.