Annabelle in the Mud Bath
From: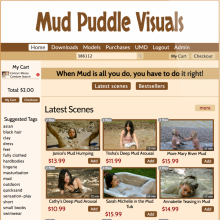 Mud Puddle Visuals
Starring:
Here's the full scene:
15 min
2 files
"Annabelle in Clay = Creamy Goodness!"
Preview trailer:
It was another stormy day, so it was time to see if we could improve on our indoor mud set--and have Annabelle give it a spin!

The clay was nice and warm. And Annabelle made it even more so, as she started smearing it all over her bikini-clad body. It didn't take her long to discover the joy of smacking her bare round butt into the creamy goodness! She then squatted and smushed her face in--several times. All the while, she talks to the cameras about what she's doing. This was a great tonic for all involved, and will be for you too!

This purchase includes the feature video, plus a complete hi-res photo set. A great value!
* For
VIP
users only. The "no trailers" option means you won't see any videos that correspond to for-pay downloads. No guarantees that you won't still see other types of promos.