Rockell's Solo in the Clay Bath
From: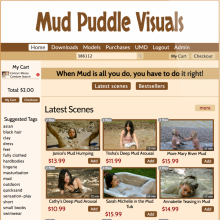 Mud Puddle Visuals
Starring:
Here's the full scene:
21 min
2 files
"Rockell naked in clay--a slippery gift that keeps on giving!"
Preview trailer:
Ready for slippery and sexy goodness?

Rockell shows us how it's done in the clay bath as she gets messy and sexy and rubs herself to pleasure in the creamy ooze!

This is a gal that likes to be looked at. She also enjoys a good mess. So it's understandable that she slides into the opportunity for the cameras in creamy pottery clay. Her lingerie gets plastered to her soft body, while her fingers find her happy spot again and again. Later, the clothes come off and she masturbates again--this time with her face plastered as well!

Shot on a rainy day, this is a nice long and muddy look at a well endowed, horny beauty getting messy and sexy for the cameras!
* For
VIP
users only. The "no trailers" option means you won't see any videos that correspond to for-pay downloads. No guarantees that you won't still see other types of promos.