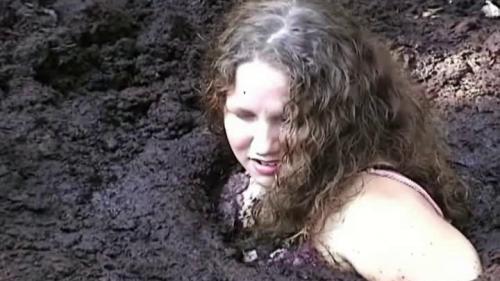 Starring the following model:
"Take a HIke but watch Your footing!"
Out for a early morning walk, Torrid enjoys the sights and sounds of the forest wearing a nice pink top and blue jeans. However she wanders a bit to far from camp and walks onto what looks like solid footing only to find that she beings to sink. Her shouts for help go unnoticed as the quicksand slowly pulls her down trapping her. The more she struggles the more she sinks until she becomes chest deep and cannot get out. As the day continues she is unable to crawl out much less move and is helpless in the grasp of the quicksand. Hour after hour she struggles to exhaustion, then after regaining some strength she tries again and again to free herself to no avail. Finally after fighting the bog all day the texture of the quicksand changes and she manages to pull herself free. Tired, exhausted, wet and muddy, she stumbles back to camp.
| | |
| --- | --- |
| File count: | 3 |
| Total size: | 417.49 MB |
| Total runtime: | 15 mins, 50 secs |
| Date added: | 12/10/11 |
| Year produced: | 2008 |
| Views: | 5240 |
| Scene ID: | 3277 |

$18.00
Includes these files:
the_longest_day_pt1_mpeg-4.mp4

720x480

1,867 Kbps

211.53 MB

15.8 minutes
the_longest_day_pt2_mpeg-4.mp4

720x480

1,876 Kbps

205.96 MB

15.3 minutes
Alternate version of the_longest_day_pt1_mpeg-4.mp4


Report

MessySupplies.com