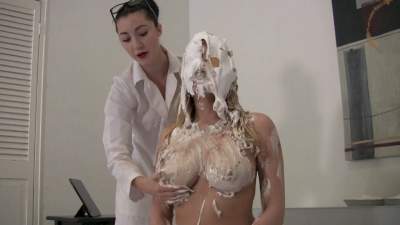 Starring these models:
"Kylie has volunteered to get messy for a group of horny men"
Lab technician Penelope wants to find out the effects of a sexy woman being pied and slimed. To find this out, she has a viewing room of men with their cocks hooked up to a device, that will register their erections. When Kylie arrives, she is not too sure what she has volunteered for. When Penelope explains the experiment, Kyle doesn't want to do it. Penelope then shows her the contract she signed, and Kylie realizes she is obligated to do it. The experiment begins with a pie to Kylie's face. Penelope then wants to up the excitement level, and strips Kylie out of her dress, She then pies Kylie again. She then rubs Kylie's big tits as she keeps her eyes on the monitor. Then she pours batter over Kylie's head and rubs that all over her body. This is followed by a chocolate batter pour over Kylie. Penelope rubs the mess all over a now nude Kylie. By this time, Kylie is now totally covered and unrecognizable. Penelope decides she wants to try it herself. So she strips down and has Kylie pie her. This really sets off the reaction meter. Both girls then play with the mess and rub their slippery bodies on each other. A very successful experiment!
| | |
| --- | --- |
| File count: | 1 |
| Total size: | 501.2 MB |
| Total runtime: | 22 mins, 20 secs |
| Date added: | 1/31/18 |
| Views: | 2707 |
| Scene ID: | 26835 |

$16.99




Report

Phased Out Again