Photoset: X Rated Dress Destruction 1
Produced by Candygirls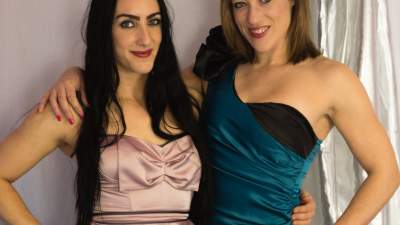 Starring these models:
"Hi-Res pic set of Axa and Chloe destroying dresses"
| | |
| --- | --- |
| File count: | 2 |
| Total size: | 1.87 GB |
| Released: | 11/06/17 |
| Produced: | 2017 |
| Views: | 2416 |
| Scene ID: | 25163 |

$2.99 50% off!

$1.50



This sexy Hi-Res pic set goes well with the video download 'X Rated Dress Destruction' Starring the beautiful Axa Jay and sexy Chloe Lovette available on my Candygirls store https://umd.net/download_info/x-rated-dress-destruction In this pic (the actual pics included are five times larger than the forum examples!) set Axa and Chloe are beautifully-dressed for a night out, Axa in a green one shouldered satin dress, undies and nude tights with heels, and Chloe in a pink satin dress, stockings, suspenders and undies. Both fully made up, Chloe spills wine on Axa's dress and the sexy pair bicker about it. Axa gets really fed up after Chloe says 'it doesn't matter about spilling the wine, I clearly look better than you anyway' and Axa hoists Chloe up, dangles her over the deep yellow gunge pool and drops her in, instantly ruining the perfect ensemble and Chloe's make up. Well of course Chloe isn't taking that treatment lying down so she pulls Axa into the deep pool of slube goo, stringy lubey slime. The two ladies wrestle and play around, head dunking each other, soaking the satin dresses, tights and shoes and tormenting each other, filling the clothes with the goo and enjoying the sensations. Eventually they decide they need to settle the matter once and for all with a proper wrestling match, so they slide out of the pool and get on the floor, ripping each others dresses, tights, stockings and knickers! Coming soon will be part two of this pic set where the gorgeous ladies start getting horny and beginning to play with each others slippery bodies and boobs. The slimy pair get more and more aroused and they play, lick, finger and 69 til both have orgasmed and they are friends again! So look out for that as it will be released separately soon!
Includes these files:
axachloeno1.zip

5472x3648

Zip file of 96 photos

946.82 MB

sizes may vary
axachloeno2.zip

5472x3648

Zip file of 96 photos

969.28 MB

sizes may vary

Report